Breadcrumb Trail Links
Real Estate
News
Commercial Real Estate
Conversions a feel-good solution to excess office space, lack of affordable housing, but economic viability varies
Publishing date:
Nov 07, 2022  •  1 day ago  •  6 minute read  •  28 Comments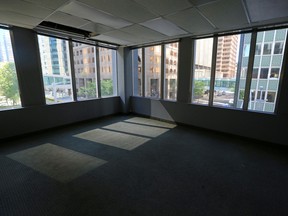 The inside of an empty office tower in Calgary, slated to be transformed into affordable housing. Photo by Gavin Young/Postmedia
Article content
In downtown Calgary, an office tower is getting a new lease on life.
Advertisement 2
This advertisement has not loaded yet, but your article continues below.
Article content
Once the home to SNC-Lavalin Group Inc., the ten-storey building near the intersection of 5th Avenue and 8th Street S.W. sat vacant for years after the engineering giant vacated 80,000 square feet and gave up naming rights in 2015.
Financial Post Top Stories
By clicking on the sign up button you consent to receive the above newsletter from Postmedia Network Inc. You may unsubscribe any time by clicking on the unsubscribe link at the bottom of our emails. Postmedia Network Inc. | 365 Bloor Street East, Toronto, Ontario, M4W 3L4 | 416-383-2300
Thanks for signing up!
Article content
Today, the building is owned by Peoplefirst Developments, which has stripped everything down to the concrete, removing old electrical, mechanical and plumbing systems, as it prepares to upgrade them to meet code for the building's new purpose as a residential tower.
Next, they'll add thermal barriers, install windows and attach balconies, which the original did not have. When the retrofit is completed sometime next year, the building will house up to 112 residential units plus retail space.
Advertisement 3
This advertisement has not loaded yet, but your article continues below.
Article content
Dubbed The Cornerstone, the tower is one of five office-to-residence conversions underway in Calgary, which has emerged as a leader in Canada when it comes to repurposing unused offices, a trend that gained traction during the pandemic and that some hope can be part of the solution to the country's undersupply of housing.
Last year, the federal government announced that it would dedicate $300 million of $1.3 billion in broader housing initiatives to converting vacant commercial properties into 800 units of market rental housing.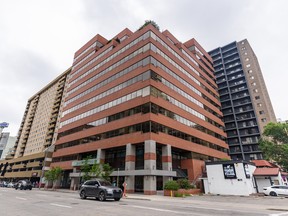 An office building which is being converted into residential space in Calgary. Photo by Azin Ghaffari/Postmedia
Ottawa has not yet provided information on funding details, access requirements or process.
But that hasn't stopped cities such as Calgary, which had high vacancy rates long before COVID-19 lockdowns and remote work further gutted office life, from offering up incentives of their own.
Advertisement 4
This advertisement has not loaded yet, but your article continues below.
Article content
The city has contributed $73 million to support office-to-residential conversions from a pool of $100 million council earmarked for conversion projects last year as part of the Downtown Calgary Development Incentive Program.
"Floor plate conversion can be costly and complex. Having that grant funding in place … makes the business case much more compelling to developers," Victoria Girardo, vice-president of real estate lending at Canadian Western Bank, said in an interview. "I think making sure there's affordable housing options where people live is an important strategy."
So far, Calgary's funding has been allocated to eight projects — five of which are currently under construction with three conditionally approved but unannounced by the city. The remaining $27 million is still up for grabs, according to Calgary's downtown development and strategy manager, Natalie Marchut.
Advertisement 5
This advertisement has not loaded yet, but your article continues below.
Article content
In an interview, Marchut said the city reopened the program over the summer to allocate the remaining funds.
"Through that reopening for the remaining funds we received another nine applications to the program that are all under review at the moment, and the remaining $27 million will be allocated to the successful candidates of that round of submissions," she said.
Conversions are a feel-good solution to the twin dilemmas of excess office space and a lack of affordable housing, but just how viable they are economically depends on the conditions in each market.
In Calgary, downtown office vacancy rates sat at 29.7 per cent in the final months of 2021, according to commercial real estate services firm Avison Young Inc., as the pandemic added to a hollowing out caused by the worst recession in Alberta's modern history.
Advertisement 6
This advertisement has not loaded yet, but your article continues below.
Article content
Elsewhere, vacancy rates are not as extreme, and investors may be more patient in waiting for demand to recover.
In downtown Montreal, where the vacancy rate sat at 16.1 per cent in the third quarter according to CBRE Group Inc., the most famous office conversion saw the Canada Life building, built in 1895, transformed into Le St-Regis lofts in 2021.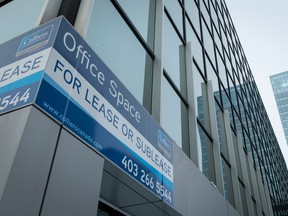 A sign advertising office space for lease in Calgary, in 2017. Photo by Lyle Aspinall/Postmedia Network
Downtown Vancouver boasted the lowest vacancy rate of Canada's major cities at 7.1 per cent, according to CBRE. The city is yet to jump on the conversion trend since very few opportunities to do so exist.
Conversions in downtown Toronto, which posted a vacancy rate of 11.8 per cent and 19 per cent in its suburban areas in the third quarter, may never happen given the cost and market dynamics, industry watchers say.
Advertisement 7
This advertisement has not loaded yet, but your article continues below.
Article content
Toronto was one of the world's tightest markets before the pandemic, with a commercial building vacancy rate of 1.9 per cent in 2019. That figure grew to 5.9 per cent in 2020 and then to 9.5 per cent last year, according to data from Cushman & Wakefield PLC.
Toronto also has 30 buildings amounting to eight million square feet of downtown office space under construction.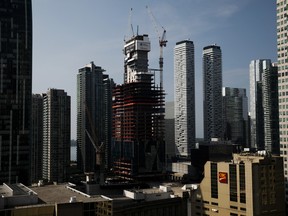 An office tower under construction in Toronto. Photo by Brent Lewin/Bloomberg
Premium office towers, however, aren't the best candidates for redevelopment.
A recent report by Avison Young said commercial rents have fallen in recent years, and because of this, many tenants are moving to higher-quality office buildings from older, less desirable properties.
These C and B class commercial buildings are the best candidates for developers willing and able to take on the task of converting the spaces into housing.
Advertisement 8
This advertisement has not loaded yet, but your article continues below.
Article content
According to the chief executive of one of the country's largest office real estate investment trusts, the demand for office space in downtown Toronto remains, "very deep and very solid."
"Unlike Calgary, there's very little obsolete office space in Toronto. Most of it has been either built to a very high standard or upgraded to a very high standard," Michael Emory, chief executive of Allied Properties REIT, said in an interview.
"In the case of Calgary, the building systems are too old and it isn't economic to upgrade that office space because you can't get the kind of rent that would warrant the capital outlay."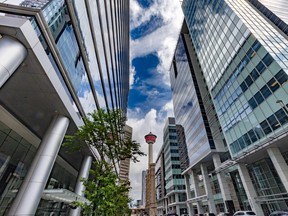 Office buildings frame the Calgary Tower. Photo by Gavin Young/Postmedia
Emory recalls a time in the early 1990s when the demand for office space softened.
"At the time, the only way to make it work was to convert them into either condominiums or rental residences, and that did happen. Not on a massive scale, but on a meaningful scale. I don't see that happening in Montreal, Toronto or Vancouver anytime soon."
Advertisement 9
This advertisement has not loaded yet, but your article continues below.
Article content
Other cities around the world, however, are embracing the movement.
Chicago Mayor Lori Lightfoot recently announced a plan to redevelop her city's LaSalle Street corridor, investing $196 million in the hopes of creating 1,000 apartment units in the initial phase of the program. Meanwhile, a recent report out of rental listings site RentCafe found that Philadelphia and Washington, D.C. have converted the most units in 2020 and 2021 combined, while Los Angeles and Cleveland have the most projects planned for 2022.
Maxim Olshevsky, managing director of Peoplefirst, which is redeveloping The Cornerstone in Calgary, echoed Emory's analysis.
He said purchasing a commercial building in Toronto is far more expensive than doing so in Calgary or Montreal and that doesn't take into account the challenges the construction process can pose.
Advertisement 10
This advertisement has not loaded yet, but your article continues below.
Article content
Some buildings have post tension cables within the floor slabs, and new designs must work around every single post tension cable, he said. Another challenge is plumbing, since office buildings don't have sufficient plumbing to support housing units, and a developer would have to account for that when adding in kitchens and washrooms, among other things.  ]



Recession fears a new headwind for commercial real estate rebound




Property tax rate balance tilting further against commercial properties, report finds




Ontario announces 'bold' new plan to meet target of building 1.5 million homes




Home building slumps as construction costs soar up to 30%, says CMHC
The rising prices of materials and labour has been quite formidable, too.
Advertisement 11
This advertisement has not loaded yet, but your article continues below.
Article content
"It's no secret that at this moment, inflation is driving everything. And, of course, construction is not exempt from that. So, for us it is important to maintain the quality that we want to have but still fitting it into an established budget." Olshevsky said. "It would be almost impossible without the city support on the ground."
One of the major benefits of conversions for housing markets starved for inventory is that conversions can be ready for market in less than half the time of a traditional new build — which typically takes three to four years from start to finish.
Peoplefirst Developments acquired The Cornerstone in February of this year and anticipates its completion late next year.
For them, it is just the beginning. Olshevsky and his team have more office conversions up their sleeves.
"Our next goal will be to complete the project in even better time because it took a little bit of time to solve all the initial problems and create a path," he said. "So for our next set of projects, we're hoping to complete pre-construction in three months rather than seven. To complete the entire project, it shouldn't take longer than 14 months, but with the supply chain issues, we'll definitely do our best."
• Email: [email protected]
Share this article in your social network
Advertisement
This advertisement has not loaded yet, but your article continues below.
Comments
Postmedia is committed to maintaining a lively but civil forum for discussion and encourage all readers to share their views on our articles. Comments may take up to an hour for moderation before appearing on the site. We ask you to keep your comments relevant and respectful. We have enabled email notifications—you will now receive an email if you receive a reply to your comment, there is an update to a comment thread you follow or if a user you follow comments. Visit our Community Guidelines for more information and details on how to adjust your email settings.