Breadcrumb Trail Links
property
PBO estimates that more than $89 billion will be needed to meet the goal of providing residents with affordable housing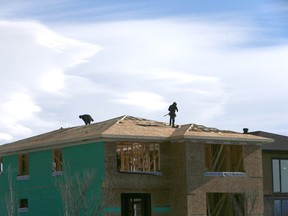 Construction workers at a new building in Calgary. Photo by Jim Wells/Postmedia
content of the article
Rising construction costs are likely to drive up bills for the federal government's affordable housing initiatives, according to a report from the Office of the Parliamentary Budget Officer (PBO).
advertising 2
This ad has not yet loaded, but your article continues below.
SIGN UP TO UNLOCK MORE ARTICLES
Create an account or log in to continue your reading experience.
Access items from across Canada with one account
Share your thoughts and join the discussion in the comments
Enjoy additional articles per month
Receive email updates from your favorite authors
content of the article
Currently, Ottawa has created a budget of approximately $82 billion to cover the costs of its national housing strategy. However, in a report released on Feb. 16, the PBO said more than $89 billion is needed to meet its goal of providing Canadian residents with affordable housing.

Financial Post top stories
By clicking the subscribe button, you agree to receive the above newsletter from Postmedia Network Inc. You can unsubscribe at any time by clicking on the unsubscribe link at the bottom of our emails or any newsletter. Postmedia Network Inc | 365 Bloor Street East, Toronto, Ontario, M4W 3L4 | 416-383-2300
Thanks for registering!
content of the article
"While federal spending on providing affordable housing and tackling homelessness has increased, the cost of housing has also increased, reducing the real purchasing power of federal spending," said the report by PBO economists Carleigh Busby and Lisa Barkova.
Launched in 2017, the National Housing Strategy was originally a 10-year plan to run through 2028 with a $40 billion budget. Since then, the budget has doubled as the need for affordable housing has increased, although construction activity hasn't kept pace.
advertising 3
This ad has not yet loaded, but your article continues below.
content of the article
New housing developments have become more expensive due to increased material, land and credit costs.
In addition, a shortage of construction workers has also pushed up construction costs and times.
"Unlike some other industries, the construction industry has a firm capacity to build more homes, and it's losing a lot of its older and more experienced workers who are retiring," said Ted Kesik, a professor of civil engineering at the University of Toronto, in an email. "There aren't enough new hires entering the workforce to make up for the attrition, and so the workforce is a key factor."
The Royal Bank of Canada expressed concern about the labor market in its 2021 report Powering Up: Preparing Canada's skill trades for a post-pandemic economy, stating that about 700,000 skilled tradespeople are expected to retire by 2028.
advertising 4
This ad has not yet loaded, but your article continues below.
content of the article
"Meanwhile, an outdated perception of the craft has hampered recruitment efforts," the report said.
According to BuildForce, a national industry-led organization that provides resources to support the construction sector, just solving the skills shortage could take another three years.
"BuildForce Canada believes these market challenges may remain over the forecast period due to strong residential construction markets and a growing backlog of current and planned large-scale projects that are not expected to abate before 2026," said a report published last year at its website was published.



Canada's housing market just had its worst January since 2009

The pace of housing starts is falling to its lowest level since 2020, despite supply shortages




The housing stock is expected to recover later this year after the fall in new listings
advertising 5
This ad has not yet loaded, but your article continues below.
content of the article
In June, the Canada Mortgage and Housing Corporation (CMHC) said the country would need 3.5 million additional housing units by 2030 to improve affordability, but follow-up research released in October found there will be just enough labor to meet the Number of housing starts to increase in four major provinces – Ontario, Quebec, British Columbia and Alberta – by 30 to 50 percent.
These more modest increases mean the country is likely to struggle to meet its affordable housing targets, even if home vacancy rates are at their lowest level in more than 20 years (1.9 percent in 2022).
• Email: shcampbell@postmedia.com
Share this article on your social network
Comments
Postmedia strives to maintain a vibrant but civilized forum for discussion and encourages all readers to share their views on our articles. Comments may take up to an hour to be moderated before they appear on the site. We ask that you keep your comments relevant and respectful. We've turned on email notifications – you'll now receive an email when you get a reply to your comment, there's an update on a comment thread you follow, or when a user you follow comments follows. For more information and details on how to customize your email settings, see our Community Guidelines.
Join the conversation