Breadcrumb Trail Links
property
mortgages
Canadians can expect progressively slower price declines as the year progresses
Published on January 13, 2023 • Last updated on January 13, 2023 • 2 minutes read
6 comments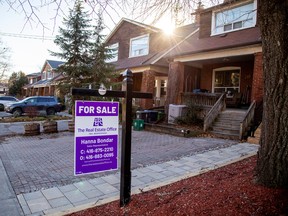 A "For Sale" sign hangs outside a home in Toronto. Photo by Carlos Osorio/Reuters files
content of the article
Canadian home prices posted their first year-on-year price decline since the global financial crisis in 2022, and while the slump could continue in 2023, real estate company Royal LePage believes the worst is behind the market.
advertising 2
This ad has not yet loaded, but your article continues below.
content of the article
In the company's fourth-quarter home price survey released Jan. 13, the real estate company said it expects the first quarter of 2023 to see its sharpest year-over-year price decline, but that Canadians could expect increasingly lower price declines throughout the year .
Financial post top stories
By clicking the subscribe button, you agree to receive the above newsletter from Postmedia Network Inc. You can unsubscribe at any time by clicking on the unsubscribe link at the bottom of our emails or any newsletter. Postmedia Network Inc | 365 Bloor Street East, Toronto, Ontario, M4W 3L4 | 416-383-2300
Thanks for registering!
content of the article
"The declines have already happened. We've reached a point where things have leveled off," Royal LePage CEO Phil Soper said in an interview. "Compared to early last year, home prices will be lower, but they're not going down any further."
The big declines occurred from April 2022 through late last year, Soper said. While prices in some markets, such as western Canada, are expected to rise again this year, home prices in the greater Toronto area and lower mainland British Columbia "will essentially flatten out this year," he added.
advertising 3
This ad has not yet loaded, but your article continues below.
content of the article
Soper said the current market might be tempting for some buyers as the competition is pretty low and not many people want to buy. The downside, however, is that there aren't many homes for sale either.
With rate hikes expected to slow this year, Soper believes consumer confidence will rise and people will re-enter the market – causing prices to rise again. "Maybe even uncomfortably fast," he said.



Banking regulators seek input to strengthen homebuyer stress tests as default risks rise




The condo market is poised to follow the fall in single-family home prices, the real estate agent says




The question after a tough 2022: How far do real estate prices have to fall?
advertising 4
This ad has not yet loaded, but your article continues below.
content of the article
The house price survey released by Royal LePage found that the fourth quarter of 2022 marked the third straight quarterly decline but the smallest decline yet. The total national home price in Canada fell 2.3 percent quarterly and 2.8 percent year-on-year to $757,100 in the fourth quarter, according to the report. This is the first year-on-year decline since late 2008 during the global financial crisis.
According to the report, despite reports that home prices plummeted in mid-2022, fewer than 113,000 resale transactions took place during the months that saw the highest national benchmark prices. This corresponds to only 0.68 percent of all residential buildings in the country, it said.
advertising 5
This ad has not yet loaded, but your article continues below.
content of the article
"Approximately half a percent of Canadian homeowners who bought homes during the last peak of the pandemic in the first quarter of 2022 whose homes are now worth less than what they paid for them," Soper said.
House prices have held up remarkably well in the post-pandemic era, he said, adding that the decline in the last quarter of last year was in line with previous forecasts.
"We want to convey that Canada's housing stock is in good shape. Canadian homeowners are in good shape. And it's highly unlikely that we'll see an increase in defaults and foreclosures," he said.
• Email: [email protected] | Twitter: denisepglnwn
Share this article on your social network
Remarks
Postmedia strives to maintain a vibrant but civilized forum for discussion and encourages all readers to share their views on our articles. Comments may take up to an hour to be moderated before they appear on the site. We ask that you keep your comments relevant and respectful. We've turned on email notifications – you'll now receive an email when you get a reply to your comment, there's an update on a comment thread you follow, or when a user you follow comments follows. For more information and details on how to customize your email settings, see our Community Guidelines.